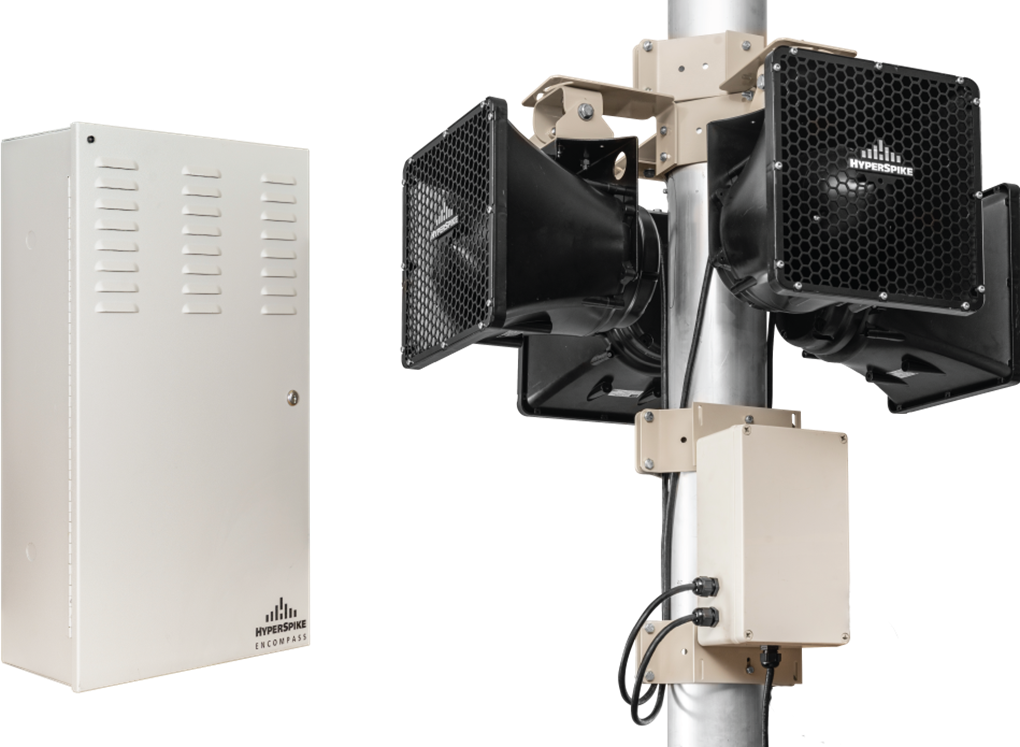 Product features
Easy to Install TCPA-Q Array and Mounting Brackets creates flexible acoustic configuration options.

Signal conditioning from Encompass LT Control Cabinet optimized for maximum power and intelligibility for HyperSpike

®

TCPA-10 Series Speakers

Smart Amplifier with self-protection, speaker monitoring, and fault reporting
Ruggedized speaker construction for outdoor use
Seamless transitions to/from backup power with no disruption in audio
Continuous AC operation (AC primary power with DC backup)
Only 300-600W of power compared to typical 1600-3200W Outdoor Voice Notification Platforms
Engineered and designed with the latest technology in mass notification control systems; the HyperSpike® TCPA-Q Array paired with the Encompass LT Amplifier Cabinet is optimized to produce clear and authoritative voice commands and attention-grabbing tones. The TCPA-Q Array yields acoustic coverage equivalent to typical 1600W outdoor voice notification systems.  
The cabinet automatically switches to the best power source, performs self-diagnostics, and reports status to the outside world through industry-standard Form C relay fault reporting as well as SNMP traps. The small electronics unit is packaged in a basic NEMA 3 enclosure providing options to place indoors or inside a larger outdoor rated cabinet.  The Amplifier Cabinet creates a 70V output allowing long cable runs from inside a structure to the outdoor speaker array.  
When making announcements, the HyperSpike® Encompass LT Amplifier Cabinet responds at a moment's notice and will continue to broadcast as long as required. With best-in-class response time and thermal fold-back capabilities, your message is broadcast regardless of its length or the ambient temperature.
Watch this Customer Testimonial on the Performance and Benefits of the TCPA-Q Encompass System
TCPA-Q Speaker Array Documentation
Encompass LT Electronics Control Cabinet Documentation